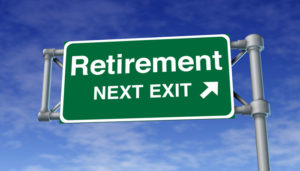 If you've read What Your Boss Never Told You, my Quick Start Guide for New Managers, you met three types of employees – those who support you, those who sabotage, and those who split (but don't actually leave).
In March, I'm publishing a book to help managers with yet another kind of employee: those  who are about to retire. In Managing the Soon-to-Retire Employee, you'll find practical suggestions on how to keep these folks motivated and productive even as they have one foot out the door.
"Sooners," as I call them, are folks who intend to retire within the next two or three years. Their career is winding down and they are beginning to transition from employee to retiree. The psychology of this process is complex, and it's sometimes difficult for Sooners to remain as engaged and productive as they have been.
10,000 Americans retire every day.
Baby Boomers are completing their careers at a phenomenal pace. Once they announce plans to retire, they can be stereotyped as resistant to change, withdrawn and not "their usual self." Often older than their colleagues, peers and supervisor, Sooners find themselves trying to figure out how to wind things down gracefully while maintaining a productive track record.
As the manager, you are focused on the game, while Sooners are starting to focus on what happens after the game.
How do you help keep Sooners engaged and productive throughout their final months or years with the organization?
You can't simply ignore the issue, look the other way and hope for the best. You must get involved – as a coach, a confidant, and a colleague. You must have empathy for what they are about to experience and a thorough knowledge of the psychology of personal transition.
Recently I'd asked Craig Bronzan, the Director of Parks and Recreation for the City of Brentwood, California, to describe his feelings about his pending retirement. In an "open letter" to his boss he wrote: "Can I still add value to the job? … yes, I can. Although the day I walk out of here for the last time is coming quickly, I want to be valued to the very end and add value to what I do. … I have been here a long time, mostly because I am passionate about what I do. I want to make a difference and be appreciated for my efforts."
Sooners like Craig, who are going through a significant life transition, present a unique set of challenges which you can learn to handle. Managing the Soon-to-Retire Employee, available in April on amazon.com will be your compassionate, practical guide through this time of transition.